Flowers
Floral Tributes make thoughtful gifts at this difficult time. The gentle beauty of flowers can help to express your feelings of respect for the deceased.
At Keller's we have a long standing relationship with our local florist Elizabeth Rose 067 33606 and can guarantee the safe delivery of high quality, fresh flowers on your behalf.
Custom-made floral arrangements can be made on request.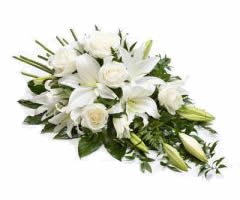 Music
Music is a personal and integral part of most funeral services whether religious or otherwise.
For religious services we can arrange soloists, organists and other musicians as required. Funeral ceremonies in Christian churches will generally be required to only have religious music and hymns during the service. A selection of suggested hymns and psalms for the Catholic Funeral Mass can be given by the celebrant of the service or you can view some suggestions below.
Non-religious and civil services can have live performed or pre-recorded music (on CD or electronic format).
A committal service in the crematorium (following a religious service in a church) provides a family with the opportunity to play an appropriate piece of non-religious music (on CD or electronic format). Live performances at the crematorium can also be arranged.
Pipers or other musicians can also be arranged for the graveside at cemetery burials.
Suggested Hymns for Catholic Funerals
This list is intended as a guideline only. There are many other hymns for funerals which are appropriate during a funeral Mass. If you require further assistance please contact us or consult the Organist/Soloist.
OPENING HYMNS
Morning has broken
How Great Thou Art
Christ be beside me
Amazing Grace
Make me a Channel of your Peace
Faith of our Fathers
Hail Queen of Heaven
RESPONSORIAL PSALM
Here I am Lord
Ps 23 The Lord is my Shepherd
Ps 27 The Lord is my Light
Ps 32 May your love be upon us
Be not afraid
On Eagles Wings
OFFERTORY
Ave Maria (Schubert)
Ave Maria (Gounod)
Ag Chriost an Siol
As I kneel before you
Lord accept the gifts we offer
Gifts of Bread and Wine
In bread we bring you Lord
When creation was begun
COMMUNION
Come to Me
Be Still for the Presence of the Lord
I am the Bread of Life
Sweet Sacrament Divine
Like a Shepherd
The Hiding Place (Liam Lawton)
Laudate Dominum (Mozart
Panis Angelicus
Pie Jesu (Faure)
Pie Jesu (Lloyd Webber)
The Clouds Veil (Liam Lawton)
RECESSIONAL
Nearer my God to Thee
Going Home (Dvorak)
In Paradisium
I'll walk with God
Jesus Remember Me
May songs of the angels welcome you
Song of Farewell
Queen of the May
Venues
After the funeral some families wish to provide refreshments for those attending in their own home or a conveniently located venue.
These gatherings give those attending the funeral an opportunity to offer their condolences and to share fond memories in more relaxed surroundings. Traditions vary throughout the country regarding such gatherings.
We are happy to take on board any preferences you may have and can advise of suitable venues or caterers and can recommend these local venues: